Hardware & Software
Your company or small business is very important. It is just as important to purchase your hardware or software from a safe and reliable source without it breaking the bank. Be sure it has a warranty and that it is re-programmable with different processors and not locked. Also confirm it is simple to return or exchange should your machine becomes broken or tampered. Many online stores or people selling equipment from their garage make it very difficult to get ahold of them, return the terminal and get back up and running in a timely manner. Working with a personal agent from a reputable company takes all the guess work and insecurity out of it.

We offer:
Hardware
Basic Stand-alone terminal options that are EMV ready and NFC capable.
USB card readers for your computer.
Card readers for your IPad, IPod and smart phone apps.
Wireless terminals for the on the go business owner.
Wi-Fi terminals for your business location.
Software
Virtual terminals that are safe and secure from the comfort of your own PC.
Automated recurring billing programs
E-check services
Smart phone apps
IPad POS technology
Website and shopping cart integration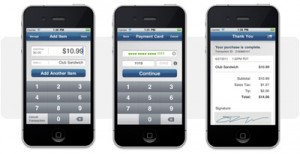 We can integrate with hundreds of high end point of sale systems as well. Email me if you would like more information on any or the products or services that we provide or to find out if we can integrate with your POS system and save you money.